Shamelessly simple
In-Person Sales tools and training.
Ditch the complexity and overwhelm - sell more and stress less with Swift Galleries.
An open letter to

burned out photographers.
Dear photographer,
"It's not supposed to be this hard, is it?"
If you've ever felt that pang of frustration and helplessness amid the chaos of running your photography business, know this—you're not alone.
Somewhere along the way, the passion that led you to pick up a camera has become hopelessly tangled up in endless to-do lists, flash-in-the-pan marketing schemes, constantly chasing clients, and the relentless pursuit of more. More clients, more sessions, more of the endless 'hustle' that's become a badge of honor in our industry (and many others, as well).
But what if it doesn't have to be this way? What if hustle culture (and dancing on TikTok) isn't the only path to success—what if there's a road paved with intention, simplicity, and – yeah – peace?
At Swift Galleries, we believe in the radical notion that your business should serve your life, not consume it. We stand for the beauty of simplicity, the clarity of honest work, and the joy that comes from a business built on connection and community—not chaos. 
"Shamelessly Simple" is our line in the sand – our statement that being "simple" shouldn't be embarrassing, it should be embraced. 
We're creating something different here. It's more than just tools and education; it's a challenge to do business differently. A promise that selling your work can be as soulful as creating it. We're out to strip away the complexity and focus in on what truly matters – while supporting you in crafting a business that thrives on the essentials.
So, if you're weary of the #hustleharder song-and-dance, if you're questioning whether this path is really for you, I invite you to join us. Embrace a way of working that celebrates your work, respects your time, and cherishes your wellbeing.
Because at the end of the day, we're not just selling photos—we're capturing life's most important moments. And shouldn't we have the space to enjoy those, too?
Keep It Shamelessly Simple,
Chris Scott
Co-Founder & CEO, Swift Galleries
Our approach is simple: if you need it, it's included.

No upgrades. No upsells. (No, really.)
You know those companies that sell you something just for you to discover you need to buy their other stuff to make the first thing work? Yeah… that's not us. Whether it's software or training or support, if you need it to be successful then it's included with your Swift Galleries membership.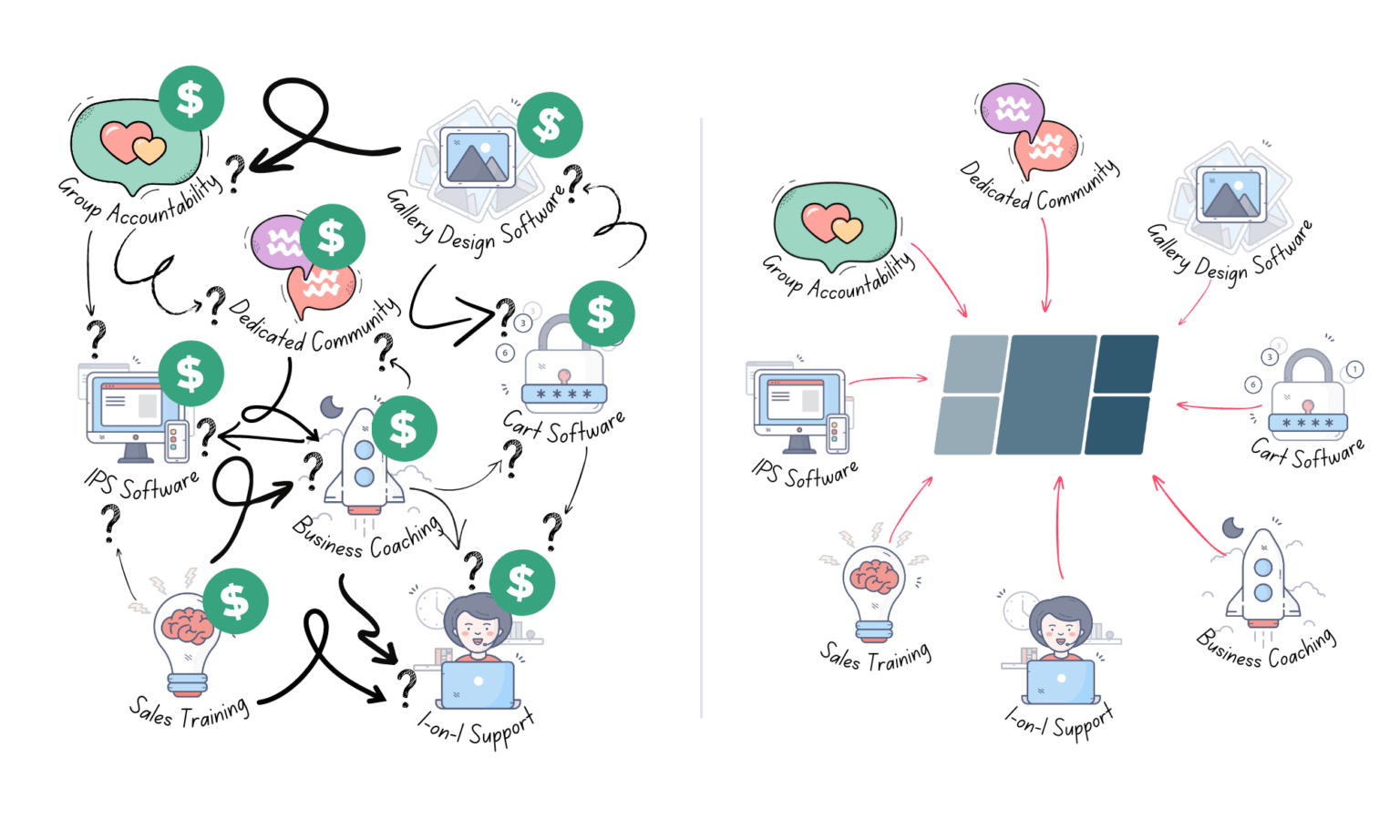 A sales experience you

and your clients

will love.
Design stunning galleries, run your entire sales meeting and make the sale (without feeling "salesy") all from your new favorite sales tool.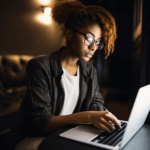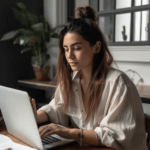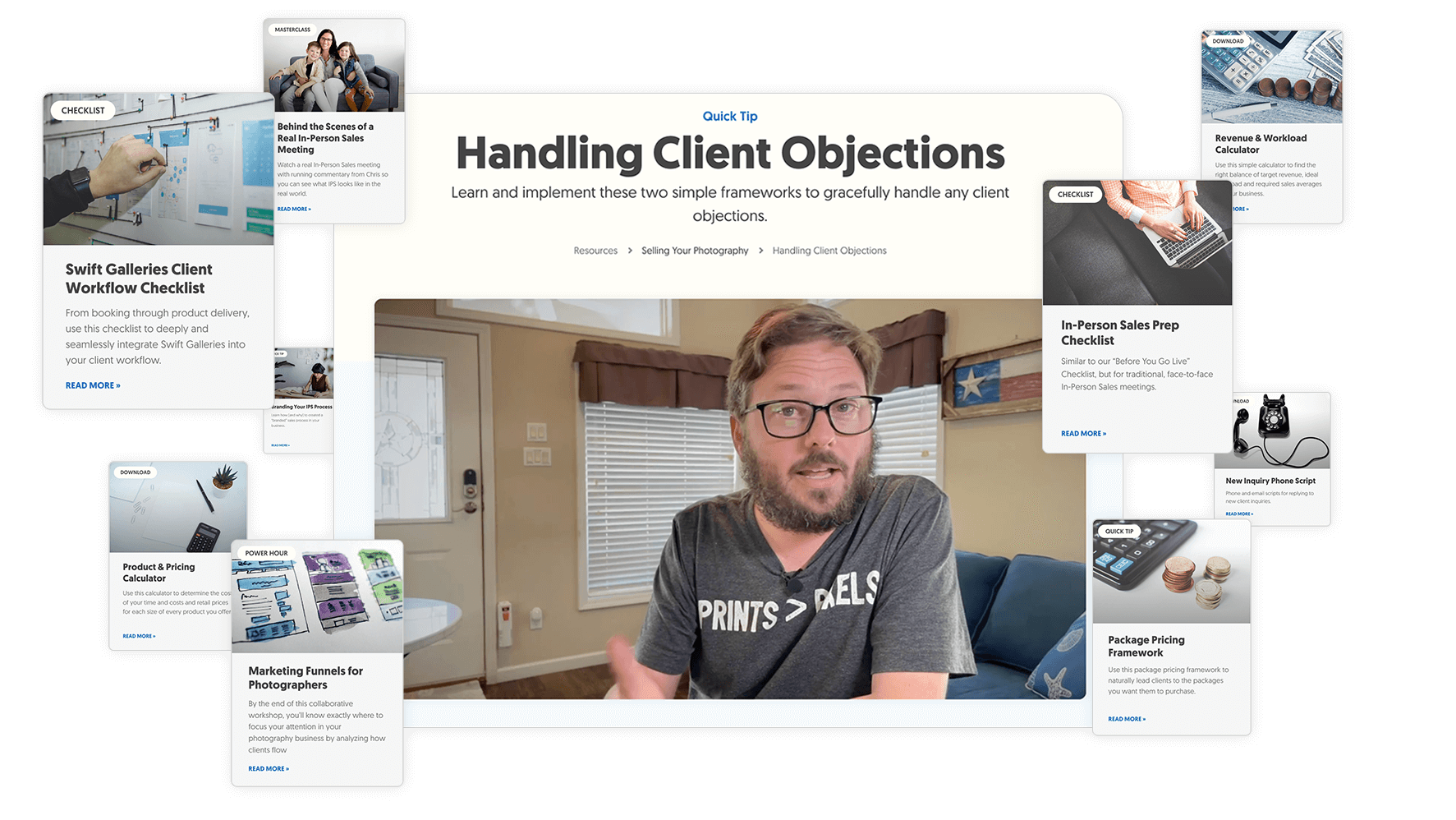 Sales & business education

that respects your time.
Just because we live and breathe all things photography sales doesn't mean you should. 
That's why all our training is quick and actionable so you can get in, learn what you need to, and get back to your life.
Welcome to our community.

You've found your people.
Swift Galleries membership means never feeling like you're on your own to figure everything out.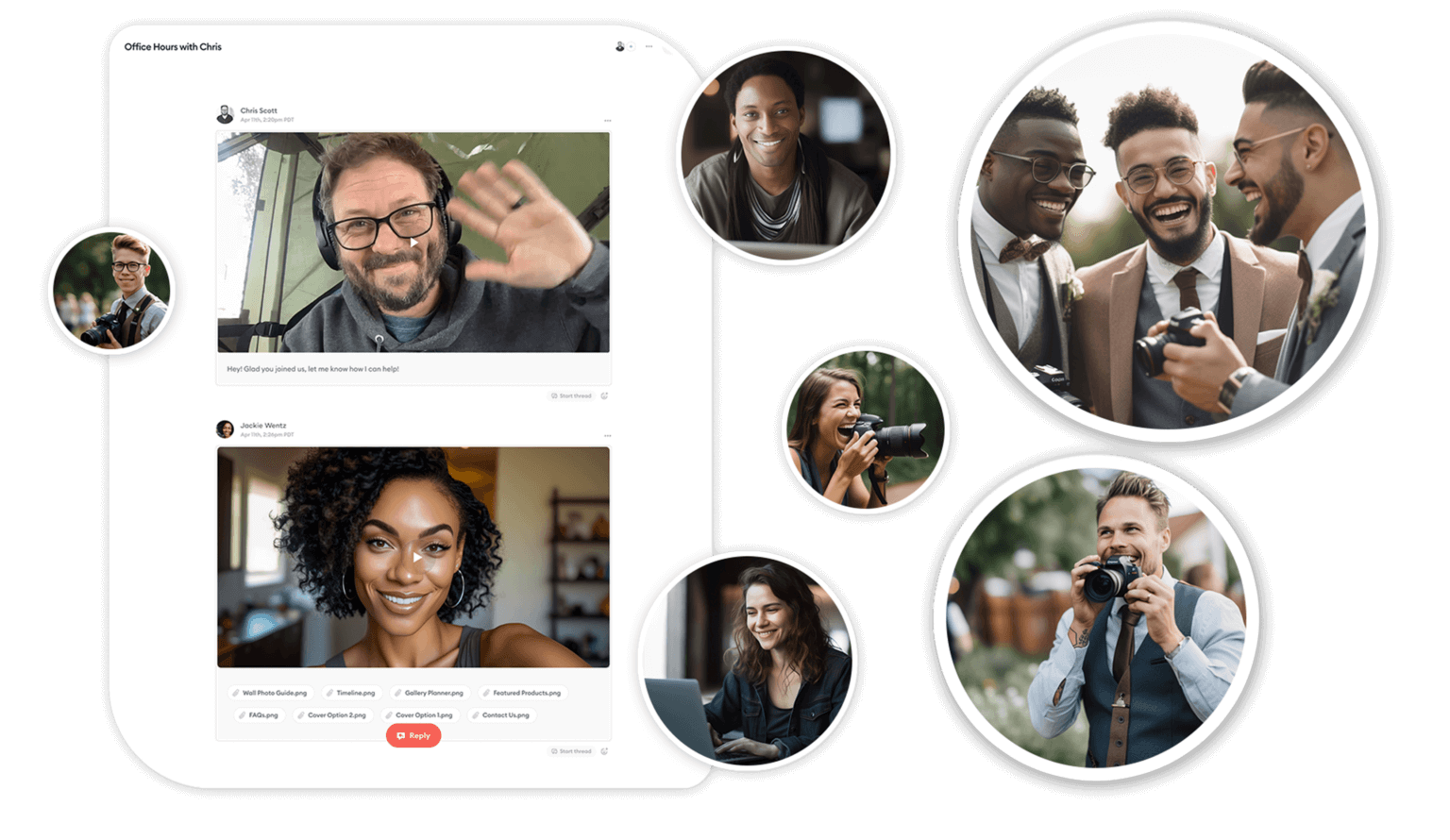 The average Swift Galleries sale will cover

more than 4 years

of your membership.
Yeah, that's 4 years. In a single sale. 🤯
What I love about the product overall is that they are vested in my learning and growth. They want me to succeed and have created an entire suite of products to help increase the likelihood of success. Love it!! I love the ease of use and the ability to share what images will look like on my clients walls. It makes IPS so much easier.
Shannon R.
Capterra Review
I love that the Owners are involved and continuously strive to make it better and address their clients feedback. I also love that if you have a question, they are prompt in answering it and will work with you until you have it down.
The sky is the limit with Swift Galleries! What sets them apart isn't only how carefully designed and well executed everything is, but holy cow, the customer service!
Jessica D.
Capterra Review
My overall experience with Swift Galleries has been phenomenal! They've saved sales for me, helped create countless new sales, instill confidence in myself and what I do, helped me with selling and business tips ... and have been an integral part of my business as a whole.
The interface is super simple and intuitive to use. Few clicks and you know exactly where you are or where you need to go to find your way around the software. Things don't need to be complicated to WORK!
Kandyce H.
Capterra Review
Swift Galleries is the only thing about my business that I have kept around since the start. So far it's an irreplaceable tool. Affordable and pays for itself so quickly! Just sign up already!
Brittany L.
Capterra Review
Swift Galleries is a powerful tool that is not only empowering In Person Sales for my business but also improving my capacity for business which means increasing income via sales and by volume of clients too!
Seeing sample products is great, but showing [clients] what they could look like in real time is such a game changer. Not only has Swift Galleries been easy to learn, it has given me a new confidence in my work. Proving that my work deserves to live on the walls of my clients home.
Kaitlin R.
Capterra Review
This software has changed my life. Seriously. Gone are the days that I feel like I'm not good enough. Using this software has made me THE professional to my clients. It's also given me a larger purpose to my business. This has been hands down the best thing I've EVER done as a photographer for my business.
Jennifer S.
Capterra Review
I have been using Swift Galleries for years and my clients really love it. It gets the job done, is easy and has all the needed functions for a smooth selling process. I love Swift Galleries!
Swift Galleries has definitely made a huge difference to my sales process. I wouldn't be without it. Customer support is very personable also, they are real people, not a faceless corporation. Keep doing awesome job folks!
Kristianna P.
Capterra Review
Before utilizing Swift Galleries I almost never sold wall sized pieces, and never a full collection. Now, almost every client purchases multiple large pieces, and my average sale has tripled. I paid for a year's subscription the very first client meeting that I used the design software.
Ready to start a free trial? Click the button and let's do it. Otherwise, continue exploring everything you get with a Swift Galleries membership below.
Included with your Membership
Coaching & Accountability
As a member of the Swift Galleries community, you'll never "go it alone" again.
Included with your Membership
Show your clients their photos on their own walls at the right size.
"Work less, make more, dream bigger and live better"
It's not marketing hype, it's the reason we do what we do.
Give us a try, no credit card needed.
Get access to every Swift Galleries feature, absolutely free for 14 days. No commitments, no credit card. No shenanigans.
Since ditching Shoot & Burn for Swift Galleries, Kaitlin makes 10x more money working 1/3 the hours.
She takes advantage of this extra time to spend more time being present with her school-aged kids.
Kelly went from a borrowed laptop for her first sales meeting to selling more than $60,000 in print products in a single month.
Swift Galleries has helped her dramatically change her business from Shoot & Burn to the business of her dreams, specializing in serving high-end, luxury clientele.
Bri went from Shoot & Burn to $130,000+ in print sales profits in her first year with us.
Even more, she was able to cut the number of sessions she photographs in half, saving her from burnout.
Kate's first sale covered 13 years of her Swift Galleries membership.
Swift Galleries helps Kate spend more time with her kid (while out-earning her doctor husband).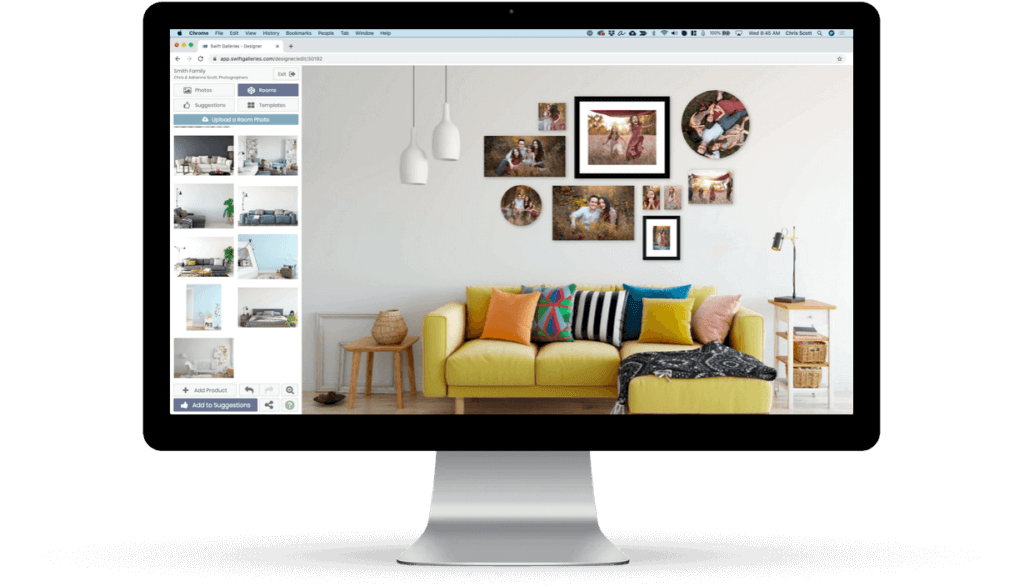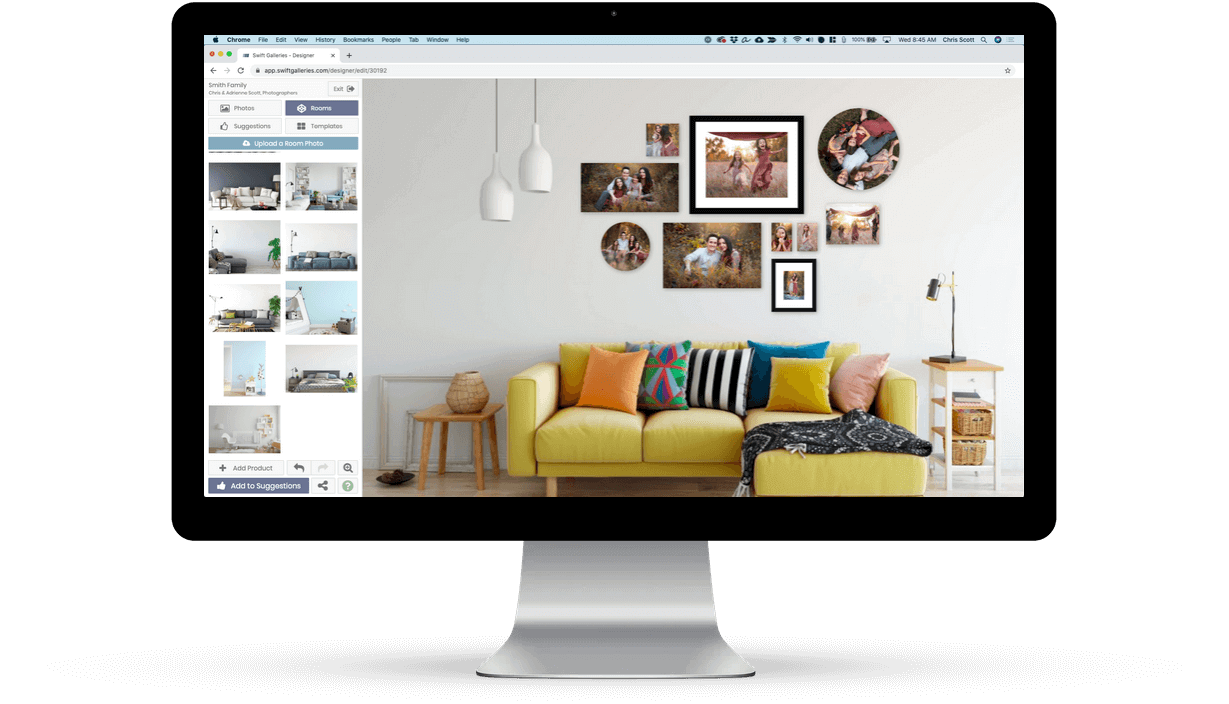 Is Swift Galleries right for you?
Take Swift Galleries for a spin, completely free.
Rachel went from "button pusher" to "trusted advisor".
Switching from Shoot & Burn to print sales with Swift Galleries helped Rachel build the home studio she'd been dreaming of.